It's cold in Texas.... like in the 30s...
That may not seem like much to y'all Northerners, but it's hard for us Texans!!!
Thank baby Jesus we do not have to deal with snow (in South Texas anyways..), people would go freakin nuts! We go nuts enough over ice! We do not know how to drive in the cold, it confuses the shit out of everyone.
How Texans act when there's ice on the road!
It's bad when the roads do ice over because there are wrecks everywhere you look...because we are not used to that shit!
The only thing I like the cold for is for the clothes you get to wear. I love wearing scarfs and jackets and boots and so on!
The worst thing about the cold weather is that it seriously hurts my motivation to work out....
You will never see Fluffy out doing this:
Hell no...First of all I have never even seen that much snow in person, but if I did I would not be running in it!!!
I'd rather be doing this:
Not smoking...just sitting by the fire ;)
I live in a really old, drafty ass house. Therefore if it's cold outside, it's cold inside, hot outside, hot inside....it sucks! The sacrifice you pay to live in a big, pretty, old house...
But when I get home from work, the first thing I want to do is change into sweats and a hoodie and sit on the couch with a blanket around me!! ....not do Ripped in 30 and have Jillian yelling at me...
I'd rather do this: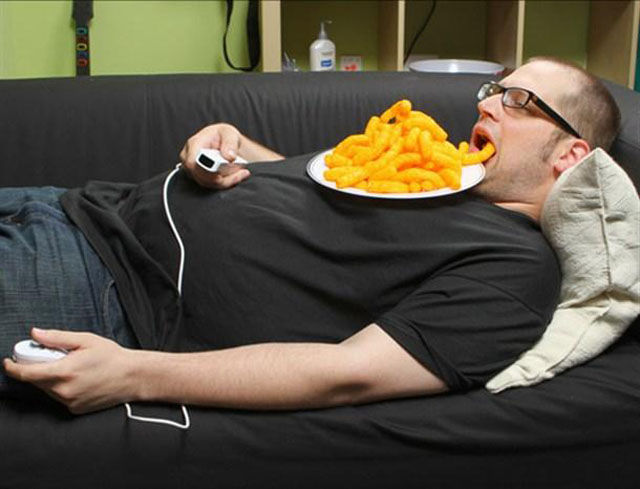 Not really though because I don't like puffy cheetos...
Anyways, I want to kick myself for not doing my RI30 yesterday, but I was just so cold, and lazy...
But I don't want to wind up like this:
So today I'll be sucking it up, and doing my DVD because I don't want to be a fat lard, and I want to beat Jason at our weight loss competition! ;)
I'll let y'all know tomorrow how our weigh in went on Sunday!!!